Venue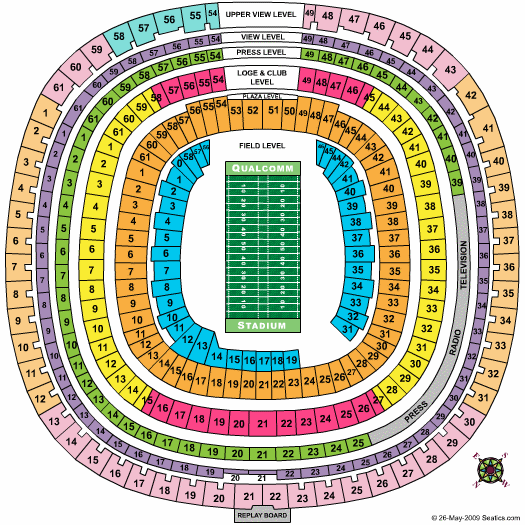 Children's Ticket
Anyone over 36 inches in height or children over two years of age require a game ticket.
Sunday Day Games Kick-off
The parking lot opens at 9:00 AM.  Vehicles with pre-purchased parking permits can enter the parking lot five hours prior to kickoff.
If driving, please research alternative traffic routes.  Interstate 15 is the most congested traffic route to Qualcomm Stadium.
Carpool and arrive early or take the San Diego Trolley (www.sdcommute.com). Commemorative Trolley $5 Day Passes are available in advance from the Transit Store at First and Broadway and at the Chargers Team Store, Gate G.
The new Sports Fan Express is available from six convenient Park & Ride locations in San Diego.  Visit www.sportsfanexpress.com for more information and to reserve your seats in advance.
Fans in North County can take the Go Chargers North County Express Coach with coastal and inland departure routes.  Now serving the Temecula & Riverside areas.
For fans coming from Orange and Los Angeles counties, take the Amtrak Pacific Surfliner with transfers to the stadium via the San Diego Trolley from Old Town.  Book online at Amtrak.com with code V240.
Get to the entry gates by 12:00 PM in preparation for bag inspection and search procedures.  Every fan entering Qualcomm Stadium will be subject to a "pat-down" search in an effort to assure a safe and enjoyable game-day experience.
At the gates, all tickets are scanned to ease entry and deter counterfeit tickets.
Per City of San Diego ordinance, Qualcomm Stadium is a smoke-free facility.  Smoking is not allowed inside the stadium.
Glass bottles and containers are not allowed inside the stadium parking lot.
Evening Game Kick-Off
The game's 5:40 p.m. kickoff hits in the middle of normal rush-hour traffic, so fans need to build extra time into to their plans.  The parking lot at Qualcomm Stadium will open at 1 p.m. for general parking and Noon for those with pre-purchased permits.  The parking lot is expected to fill quickly and close by 4 p.m.
 
The recommended route is Highway 163 to Friars Rd. East to the stadium, though fans are urged to check traffic reports prior to leaving.
 
Those planning to ride the Trolley should expect fuller and less-frequent trains due to the evening commute, particularly after 3:30.  They can expect significant delays while attempting to board, as trains will arrive at some stations with capacity loads already on board. After the game, Blue Line service from Old Town will maintain 15-minute frequency until 9:45 p.m.
 
Passengers heading to Qualcomm Stadium can use the Green Line park & ride lots, which include Old Town, Morena, Grantville, Grossmont Center, Amaya Dr. (La Mesa), El Cajon Transit Center, Gillespie Field, and Santee Town Center. Passengers heading to Qualcomm can also transfer to the Green Line at Old Town (from the Blue Line) or at Grossmont Center (from the Orange Line).
 
Customers are encouraged to buy $5 day passes before boarding the Trolley on their way to their event in order to save time and avoid ticket lines. Tickets may be purchased in advance at the Chargers Team Store, all Trolley station ticket vending machines, the Transit Store or ticket booths.  An MTS day pass is good on the Trolley and most MTS bus routes.
 
Bus service on the new Sports Fan Express  and North County Express Coach is another easy and relaxing option for fans. The Sports Fan Express will offer roundtrip motorcoach transportation for fans to all regular season home games. Roundtrip fare is $20 per person from six convenient locations:
La Mesa Springs Shopping Center (8011 University Ave.)
Governor & I-805 Park & Ride (5196 Governor Drive)
Kearny Mesa Traffic Court (8950 Clairemont Mesa Blvd.)
Mira Mesa & I-15 Park & Ride (4929 Mira Mesa Blvd.)
Terra Nova Plaza Shopping Center, Chula Vista (390 East H Street)
Golfsmith, Vista (1980 University Dr.)
First boarding begins two hours before kickoff.  Buses depart the stadium 20 minutes after the conclusion of the game.
Facilities
| | |
| --- | --- |
| Football seating capacity | 71,500 |
| Parking spaces | 18,500 |
| Concession stands | 52 |
| Men's restrooms | 44 |
| Women's restrooms | 50 |
| Unisex restrooms | 2 |
| Diaper Changing Stations | 32 |
| Entrance gates | 16 |
| Ticket Windows | 53 |
| Drinking fountains | 51 |
| Pay telephones | 69 |
| Restaurants | 3 |
| Lounges | 4 |
| Gift shops | 2 |
| Novelty stands | 9 |
| Executive suites | 113 |
| Elevators | 6 |
| Escalators | 12 |
| Ramps | 8 |
| Video Boards | 2 |
Dimensions and Distances, Football at 50 Yard Line
| | |
| --- | --- |
| Distance Across Stadium at Lowest Seat | 321'4″ |
| Distance Across Stadium at Highest Seat | 675′ 0″ |
| Sideline to Nearest Seat | 81'6″ (74′ @ 25 yd. Line) |
| Sideline to Farthest Seat | 257'6″ (255″ @ 25 yd. Line) |